How Martin Transformed the Acoustic Guitar with its Radical New SC-13E
Designer Tim Teel reveals the thinking behind the most talked about acoustic of the year, Martin's bold and stunning SC-13E.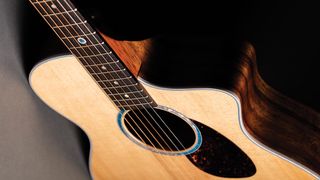 (Image credit: Martin)
News of Martin's revolutionary acoustic-electric spread like wildfire at the Winter NAMM Show, where the company debuted its new SC-13E to an unsuspecting music community.
The storied guitar maker had guarded the clandestine activity happening in its Nazareth, Pennsylvania headquarters as if it were Area 51.
When Guitar Player's editors visited the facility last spring, the acoustic community was beginning to embrace historic modifications that Martin had made to its iconic Standard Series and a major move toward modernity with the Modern Deluxe Series.
At the time, the company offered no indication that instrument design manager Tim Teel and vice president of product management Fred Greene were already hunkered down, conjuring up something way outside the box. The SC-13E features an asymmetrical body shape with a crazy deep cutaway and a pioneering heelless Sure Align neck system with myriad subtleties.
It's especially intriguing coming from America's oldest guitar maker, whose inventive history had become overshadowed by long-standing tradition. As it turns out, the spirit of innovation is not only alive and well at Martin, it's also thriving amid a team-oriented atmosphere.
Sixth-generation family chairman and CEO Chris Martin IV welcomes brave ideas from Greene's current gang of guitar zealots, and the man who turns everyone's ideas into nuts-and-bolts guitar building is Tim Teel.
The dedicated designer was so happy that he was finally at liberty to discuss the secretive S model that he did so while taking a "vacation," where he was leading a guitar-building camp.
What's the origin story behind the S?
Fred had an idea about doing a new body shape. He came to me wanting to design something that was a little asymmetrical and aesthetically forward thinking.
He said that it should look fast, like it's in motion, and he drew a sketch of two intersecting ovals that allude to an S shape in the way they come together. Once I got a sense of it, I created three different versions. One was a little more slanted, one a little less and a third version in the middle.
That's the one you see today, because it was the most aesthetically pleasing. I started with our Grand Performer body shape, and massaged it both ways. Once I started tweaking the cutaway, it evolved into its own shape and style.
What are the advantages?
It feels comfortable and has a good vibe. Even though it's a fairly big body that measures 15½ inches wide at the lower bout, it's got the shallower depth of a 000 that feels great when you're moving around onstage, and the asymmetrical shape literally comes into play, in a cool way.
We immediately noticed that it's a bit easier to get your strumming arm across, because there is less distance from the edge to the bridge on the bass side of the lower bout. The unique shape also led to a unique neck and neck joint.
How so?
I had to come up with a different thought process on how to attach the neck, which made me think that if we could keep the neck itself completely under the fingerboard instead of having the typical tongue expansion that gets glued onto the top, it would make for a very nice, straight, easy-playing neck, without the hump that traditionally occurs around the 15th fret.
Then we realized it would be advantageous to come up with a modular neck joint because once a player has the guitar, adjustments become the biggest thing. Every player has a particular setup preference, and a modular system seemed like the best fit for designing something that was very easy to adjust.
Thinking a bit further down the road, there's the consideration of different necks. Maybe a player buys this guitar and loves it but wants to try a different barrel shape. With a modular system, there could be a possibility of ordering a custom neck for your guitar, which would be really cool.
So we tried different attachment joints that are commercially available, but we ultimately decided that we're a dovetail company, and we were committed to having a dovetail system on this guitar, even though this would require bespoke parts for the neck joint.
What does a "linear dovetail neck joint" mean exactly?
A traditional dovetail joint runs perpendicular to the top, whereas this system is parallel to the top. We had to have all the parts created custom. The male dovetail part is aluminum, which is lightweight.
Along the way we realized that the female dovetail in the neck had to be lined with metal as well so as not to compress the wood when you clamp everything in place, so the female part is lined with stainless steel. Two bolts clamp the system down. If you turn them to release a little pressure, you can actually keep the strings on as you slide the neck in or out to adjust intonation.
Can you delve into that a bit further?
Let me start by saying that for warranty purposes, we recommend that adjustments be made at an authorized Martin dealer or repair center. Repair centers will be set up, and technicians can do it right then and there, because it's that simple.
We included a special setscrew system that makes intonation adjustments incredibly easy, which is very different to have on an acoustic guitar. For action adjustments there is a plate accessible through the soundhole that your dealer or repair center can pull out and replace after the clamping bolts are loosened.
There's a numbering system for the plates, and a higher plate number would mean lower action. So if the action is a little too high, have the dealer's technician put in the next higher plate size, and then see how it feels.
Is there a truss rod as well?
Yes. This guitar comes set up with a custom set of very light-gauge strings, from .011 to .052, and the action is set very low, which delivers a wonderful playing experience for most people sitting on the sofa or plugged in onstage.
But if you want to use it to play, say, bluegrass in front of a microphone, the guitar can easily be set up to accommodate heaver strings and higher action by adjusting the neck relief with the truss rod and then zeroing in on the action and intonation.
What's the logic of having the neck join the body at the 13th fret?
That's new for us, and a lot of what's happening there relates back to the linear dovetail attachment. Normally, the neck widens once it meets the body, but with this design we kept the neck the same width from the 13th fret on toward the soundhole.
It also positions the bridge lower on the body, so it's at a wider part of the lower bout to help with bass tone.
A 13th-fret position neck joint with a full scale length delivers long-scale tone with short-scale playability, because having the neck join the body at the 13th fret instead of the 14th fret subtracts from the overall length by about half an inch, and that's essentially the difference between the two main scale lengths: 25.4 inches, such as on an OM, and 24.9 inches, such as on a triple-0 model.
Can you explain the ergonomics behind the neck?
The shape of the barrel shifts to accommodate the way we tend to play in different positions. For example, in the first position, there's more meat to the barrel shape on the treble side than the bass side. That makes it easier to wrap your thumb around when playing cowboy chords.
The bias moves from the treble side toward the middle in a helical manner as you move up the neck, making it ideal for barre chords, and then, further toward the body, great for lead work. And because the neck is heelless and there's a cutaway on the back of the body, you can easily play all the way up to the 20th fret.
So it starts off feeling like a fantastic acoustic neck and ultimately winds up feeling more like an electric neck. We're hoping guitar players will invent new music around what they can do with it.
Like all Martin Road Series guitars, the SC-13E features Fishman MX-T electronics and is clearly aimed at the stage player. Martin claims that the unique body shape is a natural feedback buster, but did it also present challenges to maintain the guitar's acoustic quality?
We've started using fine veneer woods for the Road Series, and that does make them roadworthy, because you don't have to worry about the wood cracking and moving around as much.
We're also able to offer better aesthetics - such as more figuring and flame in the grain with fine veneer woods, such as the koa in this instance - at a much lower price point than we could with solid back and sides.
The top is solid Sitka spruce, which is a staple of the Martin formula. We used a single X back brace with the ladder braces underneath. When the guitar is hanging on a hook, you can see the X brace in there as a reminder that we are the company that invented the X brace. This one brace stiffens up the back in the area of the sound port, which helps a bit with sound projection.
We had to customize the top X brace to work with the unique S shape. That shorter distance to the soundhole on the lower bass bout mentioned earlier as an ergonomic advantage was also a disadvantage tonally because there was less top wood there to vibrate.
We came up with an asymmetrical bracing system that is scalloped on the treble side but scooped on the bass side to allow more flexibility in the top, ultimately delivering the nice balance of bass and treble we were after.
What sort of player is this aimed at?
We're hoping that a player who is not a traditional Martin customer will pick up the SC-13E because it looks cool and then realize how good it plays and sounds, both acoustically and plugged in. Perhaps the electric player who finds acoustic guitars hard to play will gravitate this way.
I know lots of guitarists who switched over to Martin later on in life because they could appreciate the tone after becoming better players. Hopefully the S will help them discover Martin a little sooner.
And for established players, this is an awesome stage guitar. It's a whole new platform that will move up and down the line. We've already had some inquires for custom product. It's going to be quite interesting to see where this leads.
All the latest guitar news, interviews, lessons, reviews, deals and more, direct to your inbox!
Jimmy Leslie has been Frets editor since 2016. See many Guitar Player- and Frets-related videos on his YouTube channel (opens in new tab), and learn about his acoustic/electric rock group at spirithustler.com (opens in new tab).