How Gibson Revitalized Heritage Shred Brand Kramer in 2021
Loud finishes for even louder hard rock, the Kramer name is synonymous with hard rock and heavy metal stunt guitar.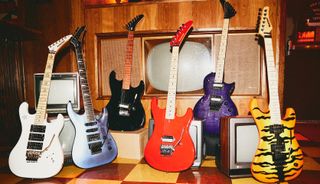 (Image credit: Kramer Guitars)
In late 2020, Gibson announced the relaunch of the Kramer brand with Original and Modern Collections that re-create the specs of legendary models from the '80s.
The Original Collection consists of the Baretta, Focus, Icon, Pacer, and SM-1 guitars, while the Modern Collection includes the Assault, Striker, Nite-V bass, and three new signature models: the Charlie Parra Vanguard, Tracii Guns Gunstar Voyager, and the Snake-Baretta, named for Dave "Snake" Sabo.
Promising more to come in 2021, Kramer says the collections will feature everything from "entry-level and intermediate guitars to professional offerings across our entire line, including the USA-assembled Custom Graphic Collection, hand-painted by legendary Kramer graphic artists."
Kramer was founded in the late '70s by Dennis Berardi and Gary Kramer, a friend and associate of Travis Bean. The company started out building aluminum-neck guitars that featured a distinctive pitchfork-style headstock and differed from Bean's creations by having strips of mahogany, maple, or koa embedded along the entire length of neck to give it a more woody feel.
Image 1 of 2
Berardi and Kramer were joined by Peter LaPlaca (a vice president of Norlin, the parent company of Gibson in the mid '70s) and an investor named Henry Vaccaro to open a factory in Neptune, New Jersey. Gary Kramer subsequently moved to Southern California, thus ending his association with the brand.
In 1981, Kramer switched to wood necks, which had the benefits of reducing production costs and making them more appealing to traditional players, and began producing the guitars in East Asia, with necks from Japan and final assembly and finishing done in New Jersey.
At the time, Kramer used a locking tremolo invented by Helmut Rockinger, which was dubbed the EVH Trem after Eddie Van Halen became a Kramer endorser.
The Floyd Rose system was adopted in '83, and Kramer changed the headstock to the signature "banana" design and added both DiMarzio and Seymour Duncan pickups in 1985. Kramer became the best-selling guitar brand that year with an A-list of endorsers that included George Lynch, Vivian Campbell, and Richie Sambora.
The company ruled hard rock and metal during the late '80s, but fortunes turn quickly in the music business, and some financial missteps led to Kramer declaring bankruptcy in 1990. Gibson has owned Kramer since 1996 (interestingly, it followed Michael Jackson's unsuccessful attempt to acquire Kramer out of bankruptcy several years earlier).
While the Nashville-based company also eventually floundered and had to be rescued by a coalition of new owners, Gibson is on a huge roll again and ready and willing to take on new challenges, the latest being Kramer, which is ready to rock again under the guidance of a dedicated team led by Brand President Cesar Gueikian and Epiphone/Kramer brand director Krista Gilley.
Was it always the intention of Gibson's new owners to bring Kramer back?
Cesar Gueikian: Yes. When we ended up taking over and buying Gibson, we decided that Kramer was going to be one of our key brands. We were going to bring it back and reposition it as it originally was in the glory days of the '80s, and we brought Krista in to lead it. Our approach has been to think of Kramer as our only brand, and make decisions about what we would be doing differently if all we had was Kramer.
Krista, what excites you about Kramer, and what will we see this year?
Krista Gilley: It's a perfect marriage of this great brand and the artists that represent that fast-and-loud, rule-breaker mentality, because it shows audiences what Kramer stands for and what it can mean for them.
So we are paying homage to Kramer's history in the Original Collection, and you'll see further expansion there with historic Kramer models that were real showstoppers back in the day.
We'll also be growing the Modern Collection with guitars that have appointments that are designed for different types of players. So in 2021, you'll see both collections growing simultaneously.
It sounds like the people who are designing and building Kramer guitars are really vested in seeing the brand evolve and succeed.
Gilley: Absolutely. Our product team behind Kramer is extremely passionate about both its history and making it current, and we welcome a new audience of players who may not have even been around in the '80s.
I think it's a great starting point that we have the Snake-Baretta, Charlie Parra Vanguard, and the Gunstar Voyager guitars ready to go right now, and we're excited about the other artist models our product team will be developing.
With so many other great guitars available from Gibson and Epiphone, is it a challenge to get people interested in playing Kramers again?
Gilley: Well, we're lucky that it's hard to find a guitar player that has just one guitar, so by having all of these brands we can offer instruments that suit their attitudes and tonal preferences.
Players like Tracii Guns and Snake Sabo are into what Kramer offers, and there are plenty of other artists that have crossed over from Epiphone and Gibson. Cesar, how do you see the path for Kramer going forward?
Gueikian: The concept of relaunching the brand came from what I read while going through the original Kramer archives and marketing materials of the '80s. And we didn't need to reinvent that, because Kramer was conceived as a brand that was made to rock hard. So we're going to supercharge Kramer to take back what it once owned. I think we have a great opportunity here to become the number-one brand in hard rock and metal.
With Tracii Guns, we started with the Voyager, and clearly we're going to be doing a lot more with him. And Charlie Parra is just an insane musician and guitarist who has been carrying the torch for Kramer.
The artists that are working with us today are a great start and have energized the Kramer brand, and you're going to see Krista bringing more major artists into the fold. It's an exciting time for Kramer and everyone involved with it, and I think guitarists will enjoy what will be coming out.
All the latest guitar news, interviews, lessons, reviews, deals and more, direct to your inbox!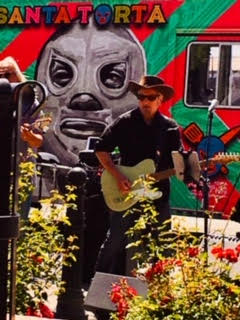 Art Thompson is Senior Editor of Guitar Player magazine. He has authored stories with numerous guitar greats including B.B. King, Prince and Scotty Moore and interviewed gear innovators such as Paul Reed Smith, Randall Smith and Gary Kramer. He also wrote the first book on vintage effects pedals, Stompbox. Art's busy performance schedule with three stylistically diverse groups provides ample opportunity to test-drive new guitars, amps and effects, many of which are featured in the pages of GP.