Gibson Murphy Lab: the World's Ultimate 'New Vintage' Guitars?
The Gibson Custom Shop's flagship models are clones of golden-era classics, hand-aged by Tom Murphy. We take a closer look at three of them to see if they live up to the hype.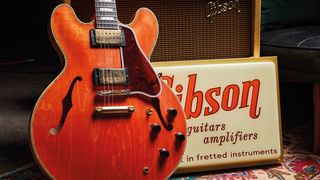 (Image credit: Gibson )
For several decades, Tom Murphy has hand-aged Gibson Custom Shop guitars as an independent contractor, and has long been acknowledged as the leader in that field.
Now Gibson has embraced Murphy's talents by creating a flagship collection in the form of the Murphy Lab, a department designed, trained, and headed by the man himself.
As the Gibson exec who pulled the "Let's do it!" lever on the Murphy Lab, brand president Cesar Gueikian sees it as a crucial part of returning the company to what players are really seeking in a Gibson guitar.
"That's why I thought the Murphy Lab was so important," Gueikian tells us. "It started with the Custom Shop and redoing those collections, and having a collection that was a true representation of cloned, original instruments by year.
"As for re-creating how those original vintage instruments from the golden era have gracefully aged, we wanted to take it up to the next level. And who could be better to lead that effort than Tom Murphy himself?"
In this way, Gueikian says, Gibson is paying tribute to Murphy as one of the pioneers – from Orville Gibson to Lloyd Loar, Ted McCarty, and Seth Lover – who helped establish and retain the maker's reputation for innovation.
"It came out of Tom having to put a new neck on an original guitar made back in the '50s," he says. "He realized, 'It plays great with a new neck, but it doesn't look good.' So he aged it. That's where it all started, almost 30 years ago."
The current project got underway about two years ago, when Murphy brought a guitar to Gueikian's office.
"Tom came to me and said, 'I want to show you something,'" he recalls. "I opened the case and said, 'Tom, wow! What a beautiful 'Burst!' I thought it was a '59, and he said, 'This is a new guitar I just made.' I told him I wanted to build a lab for him to do this and for him to run the effort. It took a year to build and test it, making prototypes, and now it's up and running."
Ultimately, it was an insightful move. It was also a way for Gibson to wrest back production of the finest vintage-spec guitars from the sheds and small shops, where independent, often one-person operations have been creating reproduction '59 'Bursts that some players have been willing to pay upward of $10,000 to obtain.
The Murphy Lab test samples Gibson sent to us include a 1959 Les Paul Golden Poppy Burst Heavy Aged, a 1959 ES-355 Watermelon Red Light Aged, and a 1961 ES-335 Sixties Cherry Ultra Light Aged.
Since the aging process requires a lot of handwork, pricing increases per model according to the level of wear applied. To avoid the potential bottleneck inevitable in the effort to match a customer's model desires to bespoke levels of aging, Gibson has defined a specific menu of desirable Custom Shop models that will consistently be making their way through the Murphy Lab.
"We have a Murphy Lab collection of the greatest hits, so that you can grab any other guitar that's not in there and apply the Murphy Lab treatment," Gueikian says. "But 90 percent of the guitars people want are already in that collection, in the different aging treatments, so you don't have to wait."
The guitars passing through the Murphy Lab are also the most vintage-correct examples Gibson has produced, thanks to the Custom Shop's application of true historic specifications devised over recent years. Accurate neck and top carves are based on meticulous digital scanning of originals, and it's all put together with hot-hide glue, the way it was back in the day.
Period-correct plastics include Royalite binding; pickup rings, pickguards, and other bits made from cellulose acetate butyrate; and butyrate knobs and cellulose-nitrate inlays. Authentic '50s tubeless truss rods are used for enhanced resonance and sustain, and pickups and electronics made true to late-'50s and early '60s specs are standard for these guitars.
Of course, the paint matters too, and correctly formulated thin, hard-curing nitrocellulose lacquer with no plasticizers – a finish that ages the way it did after being sprayed on Gibsons in the late '50s – is also a must.
1959 Les Paul Golden Poppy Burst Heavy Aged
As I opened the aged, brown Lifton case containing the Murphy Lab's 1959 Les Paul, I thought, 'This must be what it was like for Gueikian when he checked out Tom Murphy's '59 Les Paul re-creation.' If I didn't know of Murphy's existence and Gibson's whole-hearted plunge into the Lab, I'd fully believe that someone mistakenly shipped a $350,000 vintage Les Paul 'Burst to me.
This example displays the Lab's Heavy Aged wear level, with dings, scuffing, checking, and edge rubs, in a Poppy Burst finish, a shade from which the red has vanished on its way toward dirty lemon. Not only do the finish quality and accuracy of the heavy wear compare to late-'50s 'Bursts that I've had the pleasure of playing but the guitar feels like the real thing, too.
It's all there: the hardness and texture of the finish, the discernible texture of the wood beneath it, the rounded D-meets-C neck profile with just enough heft to really sink into the palm, and the angle and carve of the top arch. More importantly, when played unplugged, this Les Paul has the ring and snap of an old guitar (a flawless setup right out of the case certainly doesn't hurt, either).
It exudes the dry, lively, resonance that's so difficult to get in a new instrument, of any quality, and that's what really kicks it over the goal line for me. Tested through a Friedman Small Box (Marshall 2204-style) 50-watt head and 2x12 combo, a custom tweed Deluxe-style 1x12 combo, and a Neural DSP Quad Cortex modeler into my studio monitors, this Murphy Lab 1959 Les Paul ably continued its heady trip through the time machine.
The guitar's period-correct construction, light eight-pound, six-ounce weight and Custom Bucker pickups work together to exude those seemingly contradictory blends of bite and compression and snappy brightness alongside the lower-midrange grunt that a great vintage Les Paul with PAFs delivers, all couched in that indefinable something that just makes you want to play and play. The experience was irreproachable.
Gibson has concluded that the majority of late '50s and early '60s PAFs were made with Alnico 3 magnets, and that's what they're using behind the unpotted, mismatched coils in these humbuckers, which measure 7.86k-ohms DC resistance in the neck and 7.72k-ohms in the bridge.
They sound very good, and if they miss a tad of the high-end sting in the pick attack that my ears expect from genuine vintage PAFs, the creamier, more compressed response is very pleasing, has plenty of clarity, and makes for expressive and addictive playing.
1959 ES-355 Watermelon Red Light Aged
This example of the upmarket 1959 ES-355 wears a late-'50s red that characteristically faded to a watermelon hue, and which is extremely appealing in person. The Light Aged treatment suits the example well.
Subtle finish checking and fade marry beautifully with the amber multi-ply body and headstock binding, the split-diamond headstock, the gold hardware with a lightly aged patina, and an ebony fingerboard with '50s-pattern mother-of-pearl block inlays.
Together, they conjure up an instrument that your musical uncle tucked under the bed 60 years ago after hanging up his career. While many late-'50s ES-355s came equipped with Bigsby vibratos, the stop-tail used here is a spec that many guitarists would prefer.
For those crying out, "What, no VariTone? No stereo wiring?" it's worth noting that a surprisingly high proportion of originals were ordered as "factory mono," and without the rotary tone switch.
This one has a full '59 neck profile that's perhaps a hair slimmer than that of the Les Paul, with nicely rolled fingerboard edges that help it feel utterly scrumptious, and it plays superbly thanks to another great factory setup.
It's a rich, detailed semi when played unplugged. Into the test amp and modeler selection, it revealed a heady blend of elegance and a subtle rawness that the slightly edgy response of the laminated-maple body lends to the formula, with just a little extra top-end "snick" in the attack, too, thanks in part to the ebony fingerboard.
I expected this one to want to be admired from afar more than played, but it's a total ripping monster of a guitar for a surprisingly wide range of styles. This ES-335 carries an Alnico 3 Custom Bucker set that measures 7.89k-ohms in both positions.
The bridge position can be sweet and clear into clean settings, yet it really snarls and wails when shown a little overdrive, while the neck position excels at singing vocal blues leads and rich, throaty jazz, sounding huge in the process and never muddying out like so many do. Meanwhile, the middle position pulls off all the jangle and chime you'd expect a single-coil guitar to achieve. In short, I'm smitten.
1961 ES-335 Sixties Cherry Ultra Light Aged
Dying for a vintage last-year, dot-neck ES-335 but can't afford the premium? Here you go!
The cherry finish on this one is just the right hue for an early '60s example, and while I can't see much difference between the Ultra Light Aged results here and the Light Aged on the ES-355, so be it. They both look and feel great. The specs on this one don't vary from traditional, so they really need little introduction.
It has the thinner early '60s neck profile, but it still feels great in the hand of a guy that generally goes for fatter necks, and it plays beautifully up and down the dark-brown rosewood board. Unplugged, the 1961 ES-335 is resonant and clear, with an appealingly loose feel in the playability.
Amped up, that translates to a fun and lively guitar that offers, perhaps surprisingly, a little more snarl and bite than the ES-355 (given a similar set of pickups that read 7.82k-ohms bridge, 7.68k-ohms neck), but without digging into tube-amp breakup quite as quickly. It's great stuff, and totally on point for vintage-inspired ES-335 goodness.
Verdict
While you might expect these Murphy Lab guitars to be all about the window dressing, each proves to be beautifully and extremely well built once you delve below the surface.
In short, they're the best new Gibsons I've played in a long time. It's great to see a historic guitar brand firing on all cylinders again and turning out guitars that stand proudly alongside so many legends from the golden era. More power to 'em, and please send another three soon!
PRICES: 1959 Les Paul Golden Poppy Burst Heavy Aged, $8,999; 1959 ES-355 Watermelon Red Light Aged, $7,499; 1961 ES-335 Sixties Cherry Ultra Light Aged, $5,799
CONTACT: Gibson
All the latest guitar news, interviews, lessons, reviews, deals and more, direct to your inbox!
Dave Hunter is a writer and consulting editor for Guitar Player magazine. His prolific output as author includes Fender 75 Years, The Guitar Amp Handbook, The British Amp Invasion, Ultimate Star Guitars, Guitar Effects Pedals, The Guitar Pickup Handbook, The Fender Telecaster and several other titles. Hunter is a former editor of The Guitar Magazine (UK), and a contributor to Vintage Guitar, Premier Guitar, The Connoisseur and other publications. A contributing essayist to the United States Library of Congress National Recording Preservation Board's Permanent Archive, he lives in Kittery, ME, with his wife and their two children and fronts the bands A Different Engine and The Stereo Field.