Eric Johnson Shares His Collection of Vintage Gibsons and Fenders
The legendary Texan guitarist invites us into his studio for a tour of his totally toneful guitar collection.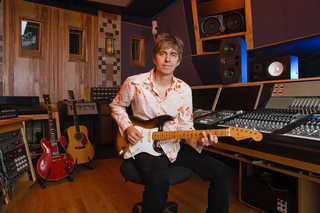 (Image credit: Max Crace)
Eric Johnson is sitting in the kitchen/lounge of his new studio, Saucer Sound, considering the question just posed to him—specifically, why he chose to build his own recording studio.
"Ever since I was a kid and discovered that Jimi Hendrix had a studio called Electric Ladyland, I've dreamed of having my own place," he says. The guitarist's dream has now become a fully operational facility, situated in the hills just west of downtown Austin.
It's here that Johnson recorded his soon-to-be-released new album, the provisionally titled Up Close. Judging by the rough mixes for the lively blues "Vortexan" and a sweet ballad with the working title "Arithmetic," the guitarist is comfortable enough in his new digs to take more musical chances and elicit more real emotion from his instrument than ever before. Johnson says, "I think that a lot of my songs had this potential that they didn't quite ever realize because they were being stifled by my being too cerebral about it. Now I'm trying to play the stuff live and give it more of an organic energy. I've listened back to a few of my records and realized that they're not really inviting to listen to. It's more like you observe them rather than feel them."
Johnson remains best known for "Cliffs of Dover," a track from the 1990 album Ah Via Musicom, that earned him a Grammy for Best Rock Instrumental Performance and established his legend as a painstakingly meticulous and tone-conscious guitarist. But if Johnson's new studio has freed him from an overly analytical approach to his craft, his newfound desire to rely more on sense than science is also demonstrated in the way that he chose to design and fine-tune Saucer's large, linoleum-tiled live room.
"We definitely tried to create a specific vibe here," Johnson says. To do so, he took a cue from Bill Putnam, "the father of modern recording" who in the Fifties created much of the equipment and established construction standards that defined studio technology and design for the post-War recording industry. Johnson says, "Putnam designed a lot of old rooms, like Ocean Way in Los Angeles, where the Beach Boys always used to record, and that facility had floors like this. And when he was fine-tuning a room, Putnam would just come in and use his ears and instincts, which is what we tried to do too. I mean, the acoustic treatment at Carnegie Hall was done that way 150 years ago. I think eventually they redid it the 'correct' way and they didn't like it as much."
Johnson certainly seems at ease when ensconced in Saucer, a refuge from the world's distractions. There he is surrounded by his favorite amplifiers (a stunning array of late-Sixties Marshalls and blackface Fender combos) as well as his collection of beloved vintage guitars and several examples of both his maple- and rosewood-necked Fender signature Stratocasters.
Of late, Johnson has thinned his collection, in part to cover the expense of building the new studio but also because he feels that, at this point in his life and career, he has neither the time nor inclination to be encumbered by superfluous possessions. "I've gotten rid of a lot," he says. "I just think that I'm not as interested in having a bunch of stuff I don't use anymore. Any guitar that I keep is like a transparent vehicle that'll just take me where I want to go and make music for me."
And these days, making music, not chasing an elusive perfect sound, is Johnson's top priority. In the two decades following Musicom's release, he has completed studio recordings at a glacial pace and now seems intent on making up for lost time. Johnson notes, "I'm going to be 55 in a few months. At a certain point, you have to sit and be really honest with yourself and say, You know, the only person who's keeping me from realizing these dreams is myself. We can become so diffused in the world that it's essential to get clear and focused on what we really want, because then we have a better opportunity to be expedient or efficient and realize our dream.
"So I asked myself, What is it I wanna do; what is it that I wanna focus on? Because you can't do it all. So me? I'd like to try to learn to make better music. And for that, I only need a few nice guitars."
1967 Flying V
"I was at the Dallas Guitar show about 13 or 14 years ago, and even though I wasn't really looking for a V at the time, I stumbled on this one, and it just sounded great. The guy who had it would only trade it for a Thirties Dobro, so while I was trying to figure out how to get this guitar, my friend Eugene Robinson went and bought a Dobro at one of the other exhibitors' booths and sold it to me so I could get the V. I love that show. It's always got a great swap-meet vibe to it. The frets on this guitar are still original, and they're pretty gnarly."
1964 Gibson SG
"I had a couple of really, really old pinstripe Marshall cabinets that I wasn't using and decided to unload. This guy offered to trade me his SG for them, and until then I really wasn't that into SGs because every single one I played wouldn't stay in tune for more than five minutes. But this guitar stays in tune, and it sounds great. You plug it in and it's instant Wheels of Fire."
1962 Fender Stratocaster (left, below)
"I only had this guitar for a year when it was stolen from my apartment back in 1982, along with several other great guitars. It was missing for 24 years. Then one day, I was looking for a good old Ibanez Tube Screamer for a friend down at Austin Vintage Guitars and they showed me a few instruments that an old lady had brought in that had belonged to her husband. I started playing them and was suddenly like, 'Oh my god, these are my guitars.' I had a record of all the serial numbers, so I ran home to check them, and these were all the guitars! The pickups in here are actually Fender Mustang pickups that I'd had rewound by Seymour Duncan to be a little hotter than Strat pickups. I think they read out at something like 6.5 ohms."
1957 Fender Stratocaster
"This is one of the two old Strats I have left. I was out on the road with my side project, Alien Love Child, about 10 years ago, and a guy brought this guitar to a soundcheck at a show in Florida. I was like, 'Sorry, man, I'm not interested,' and he was like, 'Just plug it in.' I did, and it totally blew away the 1960 rosewood-neck Strat I was touring with at the time. So I bought it and sold the '60 when I got home."
Vincent Bell Electric Sitar
"This is one that my father found for me. He had no idea how rare it is. I used it on the new record. It's a very early model with no serial number and a Patent Pending sticker. The only other person I know who has one of these is Steve Miller."
1966 Fender Bass VI
"When my guitars were stolen in '82, one of the things that went was an early Sixties Bass VI. I was really bummed about losing that. About a week later, I walked into a pawnshop and saw this one, and was like, 'Well there's my replacement!' A lot of engineers hate me for using this thing because it sounds more like a guitar than a bass, so they have to add a lot of equalization to make it work. But it does work! I used this on my last studio album, Bloom, on the track 'Tribute to Jerry Reed' and also on a country piece on the new record."
Martin D-45
"Back in the late Seventies and early Eighties, Ray Henning at Heart of Texas Music Store here in Austin had Martin make several pre-war D-45 copies for him, and my dad bought me this one after all of my other stuff was stolen. This is a very sentimental guitar to me. I was really pretty traumatized by that burglary at the time. I guess everyone is pretty naïve until something like that happens to them."
1964 Gibson ES-335
"I bought this guitar from George Gruhn in Nashville 10 or 12 years ago when I was on tour with B.B. King, and it's my favorite Gibson that I own. I personally favor the block-inlay, stop-tailpiece 335s to the earlier dot-necks. The pickups aren't quite as hot, but I prefer their sound. This guitar was spotless until Max Crace, the photographer who is shooting me and the guitars for this very story, dropped a loupe on it and dinged the top while he creating the still life that's in the gatefold of the Venus Isle record."
All the latest guitar news, interviews, lessons, reviews, deals and more, direct to your inbox!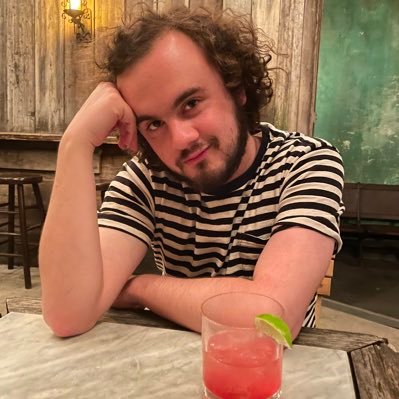 Associate Editor, GuitarWorld.com and GuitarPlayer.com
Jackson is an Associate Editor at GuitarWorld.com and GuitarPlayer.com. He's been writing and editing stories about new gear, technique and guitar-driven music both old and new since 2014, and has also written extensively on the same topics for Guitar Player. Elsewhere, his album reviews and essays have appeared in Louder and Unrecorded. Though open to music of all kinds, his greatest love has always been indie, and everything that falls under its massive umbrella. To that end, you can find him on Twitter crowing about whatever great new guitar band you need to drop everything to hear right now.