Tommy Shaw: How I Wrote Styx's "Blue Collar Man"
Tommy Shaw reveals the jolly green inspiration behind Styx's 1978 hit.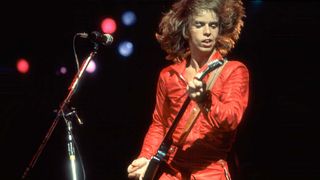 (Image credit: Paul Natkin/Getty Images)
Some songs have a way of becoming both timely and timeless, and that's certainly true of Styx's feisty and impassioned tribute to the dashed dreams of everyday workers, "Blue Collar Man (Long Nights)."
"It's a song that still hits home," says its composer, guitarist, and singer Tommy Shaw. "No matter who you are, even if you're in a successful rock band, you can relate to it. I know I do. I show up, suit up, do the job, and I love it. When something like that gets taken away from somebody, it's terrible."
The rousing track, which features a corker of a guitar solo played by Shaw (who also turns in a gutsy lead vocal), was the first single from Styx's 1978 album, Pieces of Eight. Reaching No. 21 on Billboard, the song went into quick rotation on AOR radio and – along with another Shaw-penned cut, "Renegade" – propelled the disc to triple-Platinum status.
"We were really on a roll during that period," Shaw recalls. "We'd worked hard, and it seemed that no matter which direction we wanted to go, we just nailed it."
Sound and Fury
Contrary to Wikipedia, it wasn't the sound of a motorboat that inspired Shaw to write "Blue Collar Man," but a nautical expedition was involved.
"It was the end of a tour and a bunch of us went deep-sea fishing in Maui," the guitarist explains. "Before we got to our boat, somebody gave us a little Maui Wowie, so by the time we got to the dock, we were all high as kites.
"We got on the boat, and for 45 minutes we sat there not saying anything. I kept listening to the waves breaking. It was this lurching sound that became a soundscape that stuck in my head. I thought it might make a good intro for a song."
At the same time, Shaw had been thinking about a friend of his, Pete, who'd been laid off from his railroad job.
"He loved his work, and here he was at the unemployment office, standing in line for a check," Shaw says. "This was devastating to him. He didn't want a handout. I grew up in a blue-collar family, so I understood how he felt. That's what inspired the song lyrically. Then it was just a matter of picking up the guitar and putting it together."
In Sync
Shaw hadn't yet purchased a four-track recorder, so he laid down his ideas on a cassette. But when he first performed the song for his bandmates, he played it on an acoustic.
"It almost sounded like a folk song," he says. "But as soon as the keyboards came in and [co-guitarist] James [Young] started playing guitar, it became a Styx song." Before recording the track at Paragon Studios in Chicago, the band woodshedded it in a rehearsal room.
"It was one of those songs that came together really fast," Shaw remembers. "There weren't a lot of changes to the original idea. James and I were totally in sync with our guitar parts. All of those little turnaround parts where we mimic the chorus hook came about very naturally."
For the recording, Young played a '65 Fender Strat. "I think he used either a Fender or Marshall amp," says Shaw, who played a white Les Paul Custom through a Plexi Marshall with a 4x12 cabinet. "For my solo, I pretty much improvised it. I had a basic idea of what I wanted, but I really winged it. There's a pull-off thing I do at the end. That was kind of my style at the time."
Hitting Home
Neither Shaw nor the rest of Styx knew "Blue Collar Man" would be the first single from Pieces of Eight when they first heard a playback of the completed track. "We just knew it sounded great, and we were proud of it," he says. "It had a very Styx-sounding chorus and all the other elements of a great Styx song. We were really looking forward to playing it live."
The song remains a staple of the band's shows.
"We always play it toward the start of the set, and it really sets the pace for the evening," Shaw says. "And it still speaks to people. I get letters from fans who tell me, 'I went through this when I got laid off.' Styx has never been a political band, but I think we believe the basic things like everybody else: Love each other, respect each other, and work hard. That's what the song's all about."
All the latest guitar news, interviews, lessons, reviews, deals and more, direct to your inbox!
Joe is a freelance journalist who has, over the past few decades, interviewed hundreds of guitarists for Guitar World, Guitar Player, MusicRadar and Classic Rock. He is also a former editor of Guitar World, contributing writer for Guitar Aficionado and VP of A&R for Island Records. He's an enthusiastic guitarist, but he's nowhere near the likes of the people he interviews. Surprisingly, his skills are more suited to the drums. If you need a drummer for your Beatles tribute band, look him up.