Revisiting the Cure's Tripped Out "The Caterpillar" Music Video
Robert Smith revels in exploring, expanding and demolishing the boundaries of what the Cure should sound like in this mid-'80s classic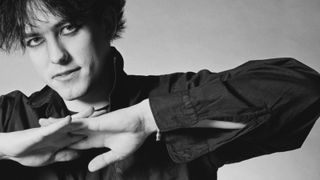 (Image credit: Fin Costello/Redferns)
The Cure's Robert Smith is vastly underrated as a guitarist, perhaps because his unique vocal stylings and distinctive image tend to overshadow his axe-ploits.
While early recordings by the Cure feature Smith working a minimalist groove, it was always clear that there was plenty more under the hood.
Smith's friendship with Siouxsie and the Banshees' bass player, Steve Severin, led to the idea of making an album together, and in 1983, they teamed up to release Blue Sunshine under the name the Glove.
The two musicians' shared love of psychedelia delivered a record which has become something of a lost classic of the genre.
Smith maintained the psych vibe into the next Cure album, The Top, the following year.
His playing on both albums is expansive and almost visceral at times, in opposition to much of his work with The Cure.
He was clearly on a creative roll when he recorded The Top, perhaps emboldened by the artistic, if not commercial, success of Blue Sunshine.
"Shake Dog Shake" grinds and lurches, "The Caterpillar" builds dissonant layers of jarring tones, and throughout it Smith revels in exploring, expanding and demolishing the boundaries of what the Cure should sound like.
In one revealing quote, he offered a useful hint at how to obtain his sound, noting, "A lot of the things on our record that sound like heavy chorusing are actually just detuned instruments."
Watch the music video here…
Browse the Cure catalog here.
All the latest guitar news, interviews, lessons, reviews, deals and more, direct to your inbox!
Mark is a freelance writer with particular expertise in the fields of '70s glam, punk, rockabilly and classic '50s rock and roll. He sings and plays guitar in his own musical project, Star Studded Sham, which has been described as sounding like the hits of T. Rex and Slade as played by Johnny Thunders. He had several indie hits with his band, Private Sector and has worked with a host of UK punk luminaries. Mark also presents themed radio shows for Generating Steam Heat. He has just completed his first novel, The Bulletproof Truth, and is currently working on the sequel.