Marcus Machado on How His Ambidextrous Approach to Guitar Helped Him Develop a Unique Six-String Style
As a guitarist of many influences, Machado puts the "extra" into his sensory perception.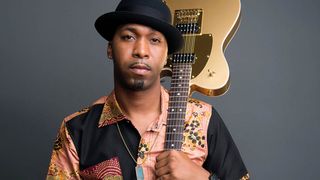 (Image credit: Roger Adam Mayer)
When he was 16, an age when most guitarists are still dreaming of playing their first high-school dances, Marcus Machado got a call to perform the national anthem at an Orlando Magic NBA game before a sell-out crowd of 20,000.
"I should have been nervous, but the truth is, I was elated," he says with a laugh. "The crowd actually helped me perform. Practicing in my bedroom, I had always imagined what it would be like playing to an arena full of people, so when I heard them cheering for me, it wasn't scary at all. It was pretty magical."
In the years since his arena debut, Machado would be called to perform the national anthem a few more times. One such appearance was at Madison Square Garden before a New York Knicks game.
"It's always an honor when you get asked to play the song," he says. "It's a heavy piece of music, and it's been done by legends, but I don't want to imitate. There was only one Hendrix, one Stevie Ray Vaughan. I've always tried to try to put my own flavor into it and enjoy the moment. Let the song tell its story, but put some of your story into it, too."
Machado's guitar style is a fascinating amalgam of influences. He picked up the guitar at the age of two and absorbed the music of his parents (his mother loved jazz, while his father favored rock) before discovering blues, funk, soul, and hip-hop. "Hendrix and Jimi Hazel were two biggies for me," he says. "They seemed to be able to take everything and turn it into their own sound."
After a lengthy period of performing as a sideman for artists like the Family Stand and Weather Report's Victor Bailey, he released his debut EP, 29, in 2015, to rousing acclaim. In the following years, Machado worked with pianist/producer Robert Glasper, and rappers Anderson .Paak and Pete Rock.
He also contributed to scores for documentaries such as Contact High and the Emmy-winning The Apollo, and he joined Living Colour bassist Doug Wimbish and Jack White drummer Daru Jones for the "soul-hop" project DMD the Vibes.
More recently, Machado formed a hip-hop/doomsday metal trio called th1rt3en with Jones and rap legend Pharoahe Monch (their debut album, A Magnificent Day for an Exorcism, is a scorcher), and he's just released his full-length follow-up to 29 called Aquarius Purple (Soul Step Records), which neatly folds rock, jazz, soul, and hip-hop into one thoroughly transporting set.
"It took me a while to put Aquarius Purple together," he says, "but I think it really shows where I'm at. The album is like a tribute to my guitar gods – Prince, Eddie Hazel, Jimi, Stevie Ray Vaughan. I don't try to sound like them, but I feel them. I'm super proud of how it turned out."
You've mentioned a lot of the guitarists you've studied, but how did you go beyond emulation into forming your own style?
Not to sound redundant, but it's all about feeling. I put in the hours and I've listened to so many players. I played their solos and riffs. I learned the scales and all that, played all the crazy-fast stuff. You can learn to play Jimmy Page or Hendrix solos, but what about what they were feeling? That's what I've tried to tap into.
Whether it was rock or jazz, or even listening to hip-hop or whatever, I thought about the stories these people were telling. It goes beyond soloing and technical stuff. One weird thing about me is I'm ambidextrous. I'm a right-hand player, but I can play lefty. I'm kind of the reverse of Jimi. One day I just flipped the guitar over and learned how to do everything lefty. I ended up re-learning the whole instrument.
It does something to your brain. When I went back to playing right-handed, the chords and scales felt strange, like they were new. So maybe that helps me sound different.
You worked as a sideman for a time before turning solo. What was the biggest thing you learned playing for other artists?
How to play with other people, basically. You can play in your bedroom for years, but that doesn't prepare you for working with other artists. Somebody says, "Take a solo," and you have to be ready. You can't think about it. I also learned what recording in a studio was like. There's a lot of waiting around.
A lot of tracks on Aquarius Purple have a '70s vibe – one definitely hears some Curtis Mayfield – but you also have some triple-harmonized leads that sound very current.
Definitely. I love harmonized guitars and how they can sound like a choir. I approach leads like they're vocals, so I try to blend tones like they're singers. I love new technology, so I use it to the fullest. And yeah, there's a '70s vibe. I like to mix things up. I try to take a hip-hop or a soul beat, put in some Jamerson-type bass, but then I sprinkle bits of blues and rock. Again, that's what I'm going for – mood.
You're a big D'Angelico man.
I play a D'Angelico Bedford SH, for sure. For years I played a Strat because of Hendrix and Eddie Hazel, but now I love D'Angelicos. I wanted to find a guitar that can bring the Fender and Gibson together. D'Angelico does that for me. Put that through a Fender Twin and I'm cool. I also have to give a shout-out to Tech 21 – that [Hot-Rod] Plexi pedal gets great distortion.
You certainly crank up the distortion on A Magnificent Day for an Exorcism. That's some angry death-metal riffology.
Absolutely. That comes from listening to Black Sabbath, Bad Brains, Megadeth, Band of Gypsys, and Led Zeppelin. Pharoahe Monch is one of my top favorite lyricists. It was cool working with him and Daru Jones. The trio is an interesting combination to work with, because typically a trio consists of guitar, bass, and drums, but this one is vocals, drums, and guitar.
My approach was to play guitar and bass, working with an octave pedal tuned way down low. I used a Beetronics OctaHive pedal, and then I'm also using a Fuzz Face and a Boss delay. It's pretty simple.
Throw that through a big Marshall JCM800 turned up to 10, and that's it. I found a way to make it rock, but I let the hip-hop side come out, too. It's metal, but it's not satanic or anything. It's about the wickedness and evil in this country that we need to cleanse.
Listening to Aquarius Purple and the th1rt3en album, one might think they were hearing two different guitarists.
Well, see, that's cool. [laughs] No, it's the same guy. On my own record, I set the mood and the vibe, so I could be more relaxed in the way I play. With th1rt3en, it's pretty furious. We're pumped, man. There's so much energy that we all put into that playing style, and it takes a lot out of us. If we go out on tour, we're going to need a trainer.
All the latest guitar news, interviews, lessons, reviews, deals and more, direct to your inbox!
Joe is a freelance journalist who has, over the past few decades, interviewed hundreds of guitarists for Guitar World, Guitar Player, MusicRadar and Classic Rock. He is also a former editor of Guitar World, contributing writer for Guitar Aficionado and VP of A&R for Island Records. He's an enthusiastic guitarist, but he's nowhere near the likes of the people he interviews. Surprisingly, his skills are more suited to the drums. If you need a drummer for your Beatles tribute band, look him up.