What Really Happened Behind the Scenes of Van Halen's Infamously Out-of-Tune 2007 "Jump" Performance
Guitar tech Tom Weber – who watched the whole scene unfold – tells the real story.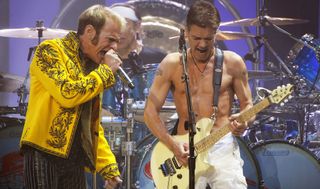 (Image credit: Rocky Widner/FilmMagic)
From even their earliest days in Pasadena and the Sunset Strip, Van Halen were a cracking, immaculately well-rehearsed live band. Perfectly blending showmanship and instrumental fireworks, their unforgettable live show was what first brought them to the music industry's attention, allowing them to record the 1978 self-titled debut album that would change rock music, and the guitar, forever.
This well-known reputation for onstage perfectionism was part of why it was so jarring to hear Eddie Van Halen – who just about never put a foot wrong on the guitar – dramatically out-of-tune with the keyboard track during Van Halen's show-closing, September 29, 2007 performance of "Jump" in Greensboro, North Carolina.
In the intervening years, a video of the out-of-tune performance has become somewhat infamous, racking up over half a million views. Most fans placed blame at the foot of the synthesizer track being played back at the wrong sample rate. However, Eddie's guitar tech at the time, Tom Weber, says it had nothing to do with the synth.
During a recent appearance on Rock Talk with Mitch Lafon and The Jeremy White Podcast, Weber was asked about that fateful "Jump" performance. White asked, "Were you there when that whole screwup with the keyboard happened? With the sample rate?"
"It's not the keyboard sample rate. It had nothing to do with the keyboards," Weber said. "I haven't been able to address this because it's a sore spot for Ed.
"During the guitar solo, which was a couple of songs before the infamous incident, Ed loves to make noises with the guitar, we all know that. Anybody that's been to a Van Halen show and been there for the guitar solo knows that you're liable to hear any unearthly sound that Ed can make with a guitar.
"So at one point he took the guitar and literally jammed the headstock of the neck into the stage several times. Normally if there was a situation where the guitar was out of tune, obviously my job is to be ready for him with another guitar, which I was. Ed's right-hand guy, Matt Bruck, and I were in 'guitar world' and it's like, 'Oh, crap – he's knocked the guitar out of tune.'
"Well, he fine-tunes it some and gets back into playing and I'm holding another guitar over my head so that he can see it and he's waving it off," Weber continued. "He's still playing the solo, he's fine-tuned, it's passable.
"Well, they go right from that into 'Ain't Talkin' 'bout Love,' that's the next song on the set list. Wolfgang starts playing and realizes that he's not in tune with the guitar so he retunes a little bit so they're in tune.
"So they're in tune – you have guitar and bass in tune. So they play 'Ain't Talkin' 'bout Love' and 'Panama' and then typically the band, at the end of the show, they come offstage for a minute, I switch guitars with Ed, and they go back on for the encore, which is 'Jump.'"
On this night though, "they didn't come offstage," Weber said. "They went around the corner… we had what we call the 'phone booth' on stage left, the big ego ramp that went up around to this big cabinet that nobody ever used for anything. But they went around the side of that and Ed didn't come off the stage to get another guitar.
"So now you have Wolfgang on his bass and Ed with his out-of-tune guitar on a keyboard song that is in tune. Ed didn't have keyboards in his monitor mix so he didn't hear that he was out of tune. So that's where all that went."
Interestingly, Eddie was blissfully unaware of the entire incident until someone who had been at the venue that night showed the guitarist a video of the out-of-tune performance.
"So I got called to the dressing room full of people and he said, 'You handed me an out-of-tune guitar,'" Weber said. "I said, 'No, I didn't.' I said, 'If you'll recall, you banged the headstock of the guitar into the stage that night several times and then you didn't come off the stage to get the guitar at the end of the show for the encore. He said, 'Ah, that wouldn't make any difference.'"
According to Weber, Eddie, who had a guitar around his neck at the time, "proceeded to jam it into the dressing room floor, and in front of a room full of people it comes back up and it's way out of tune. And I said, 'Just sayin'…' And that's the last I ever heard about it."
Dust-up about the out-of-tune guitar aside, Weber maintained a close relationship with Eddie until his death last October, telling Cincinnati.com, "The last conversation I had with him, we were discussing when we would potentially go out again, and he said, 'Whatever happens, you'll be my first phone call because I'm not leaving the house without you.' "
Weber – who, as a touring guitar tech, lost a year's worth of work due to the COVID-19 pandemic – is currently struggling to keep his home, and has set up a GoFundMe page for financial assistance.
You can donate right here.
All the latest guitar news, interviews, lessons, reviews, deals and more, direct to your inbox!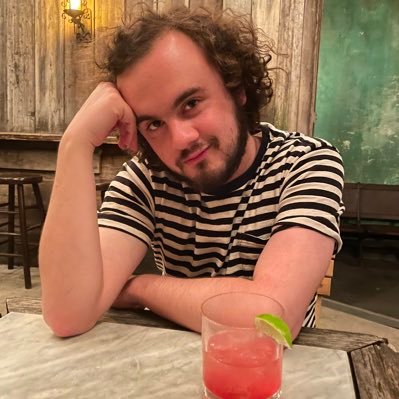 Associate Editor, GuitarWorld.com and GuitarPlayer.com
Jackson is an Associate Editor at GuitarWorld.com and GuitarPlayer.com. He's been writing and editing stories about new gear, technique and guitar-driven music both old and new since 2014, and has also written extensively on the same topics for Guitar Player. Elsewhere, his album reviews and essays have appeared in Louder and Unrecorded. Though open to music of all kinds, his greatest love has always been indie, and everything that falls under its massive umbrella. To that end, you can find him on Twitter crowing about whatever great new guitar band you need to drop everything to hear right now.