Guitar World Launches New Collab with TrueFire to Offer The Site's Best Lessons – and You Can Get 45% off
Our sister mag Guitar World have been working with TrueFire to handpick their favourite lessons by the likes of Robben Ford, Larry Carlton, Matt Schofield and more in a unique partnership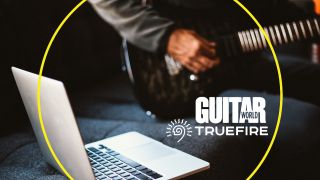 (Image credit: Getty)
Guitar Player's sister brand Guitar World and its associated magazine brands have teamed up with TrueFire, the world's most comprehensive library of online guitar lessons, to offer 'the best of TrueFire' – six courses (or one bundle) handpicked by the Editors of Guitar World, Guitarist, Total Guitar and Guitar Techniques.
The result is six comprehensive courses featuring some of the world's best guitar players and educators: Robben Ford, Larry Carlton, Matt Schofield, Andy Wood, Oz Noy, Tyler Grant, Josh Smith, Jason Loughlin, Tim Sparks, Corey Congilio, Chris Buono, Jeff Scheetz, Angus Clark, Tim Lerch and James Hogan.
TrueFire's enormous archive of guitar lessons (50,000 hours or more) can be as daunting as it is astonishing. These lessons have been handpicked and test-driven by the Editors and compiled together to create new 'compilation courses' on different topics, from how to integrate jazz, blues and country techniques into your playing, to improving your rhythm playing, or just rounding up the tastiest blues lessons TrueFire has to offer.
Each course is usually $29.99 but you can save 45% and get all 6 for $99 with the code GWTF45 – over $80 in savings on 8+ hours of interactive video guitar lessons including tab, notation, practice jam tracks, slo-mo, looping, and more!
All lessons include multi-angle HD video lessons, video tab sync and fretboard view, plus slow motion and looping (so you can learn and practice at your own speed).
For more info, and a full breakdown of courses, head over to Guitar World.
All the latest guitar news, interviews, lessons, reviews, deals and more, direct to your inbox!
Guitar Player is the world's most comprehensive, trusted and insightful guitar publication for passionate guitarists and active musicians of all ages. Guitar Player magazine is published 13 times a year in print and digital formats. The magazine was established in 1967 and is the world's oldest guitar magazine.
When "Guitar Player Staff" is credited as the author, it's usually because more than one author on the team has created the story.