Gibson to Remake 13 Stolen Adam Jones 1979 Les Paul Customs
$95,000 worth of the ultra-limited edition Silverbursts were stolen from a Sweetwater truck in Whiteland, Indiana on October 30.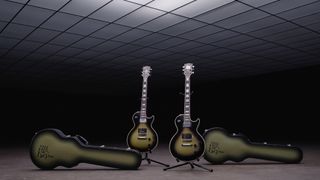 (Image credit: Gibson)
On October 30, 13 Gibson Adam Jones 1979 Les Paul Custom guitars – together worth $95,000 – were stolen from a Sweetwater Music truck at the Flying J Travel Center in Whiteland, Indiana.
Now, Gibson and Adam Jones have reportedly decided to re-manufacture each of the stolen guitars for their buyers.
According to Guitar.com, Gibson and Adam Jones sent the buyers of the stolen guitars a letter that read "For many of Adam's fans, these limited-edition guitars are the guitars of their dreams, and this is probably true of you as well.
"Therefore, we wanted to let you know that we, Gibson and Adam together, have decided to make the guitars again for you."
"In order to distinguish them from the ones that got stolen," the letter continues, "We are going to add a special notation on the headstock, something we believe will make your guitar one of the 13 most special and collectable guitars of the run. We apologize in advance for the suspense, but we prefer to surprise you!"
Gibson told affected customers they should expect their re-made guitars to arrive in February. 
Gibson had previously published the serial numbers of the 13 stolen guitars, which remain at large. They can be seen below.
Gibson Adam Jones 1979 Les Paul Custom Aged and Signed
73529531 #42
73529531 #69
73529531 #41
73529531 #71
Gibson Adam Jones 1979 Les Paul Custom VOS
73529111
73529047
73529114
73529145
73529072
73529030
73529091
73529126
73529024
Anyone with information on the stolen guitars is being urged to contact Detective Kenny Polley of the Whiteland Police Department at KPolley@whitelandpd.us or (317) 535-8100.
Get the latest news, reviews and product advice straight to your inbox.
Thank you for signing up to GuitarPlayer. You will receive a verification email shortly.
There was a problem. Please refresh the page and try again.