Gibson Issues Notice of Opposition to Collings Trademark Registration
Gibson said that Collings' headstock trademark would increase the "likelihood of confusion" with its own designs.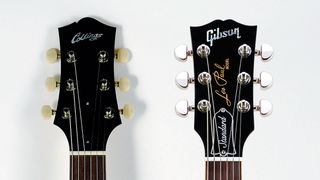 (Image credit: Future)
Gibson has issued a notice of opposition to Collings Guitars' attempt to trademark its headstock design.
In the notice of opposition, which Gibson filed on June 17, 2020, Gibson cited the "likelihood of confusion," and that it believes it "will be damaged by the registration" of Collings' headstock trademark.
Gibson says that Collings' headstock is similar to three of its own: the 1939 Emperor design, 1963 Epiphone design and the Dove Wing design. Collings had filed the trademark on March 31, 2019.
Gibson says that it has been using its own designs "at least as early as 1922," and that these designs "are distinctive to both the consuming public" and guitar trade.
"As a result of its widespread, continuous and exclusive use," the notice continues, Gibson "owns valid and subsisting federal statutory and common law rights" to these marks.
Gibson says it has two firm grounds for opposition, the first being that - according to Gibson - the Collings headstock so resembles Gibson's designs "as to be likely to cause confusion, or to cause mistake, or to deceive with respect to the source or origin" of Collings' guitars.
Gibson also contends that, if the trademark is granted, it "would be likely to impair the distinctiveness, and cause dilution by blurring" of Gibson's designs.
Guitar Player has reached out to Gibson for comment.
Get the latest news, reviews and product advice straight to your inbox.
Thank you for signing up to GuitarPlayer. You will receive a verification email shortly.
There was a problem. Please refresh the page and try again.