D'Angelico Guitars Acquires Supro USA and Pigtronix
By Jackson Maxwell published
The acquisition unites three highly-regarded New York-based guitar gear companies.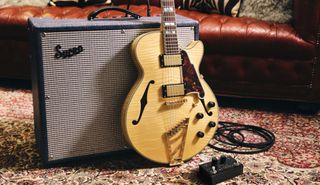 (Image credit: D'Angelico Guitars)
D'Angelico Guitars has announced its acquisition of Supro USA and Pigtronix.
Both Supro and Pigtronix were previously owned by Long Island, NY-based Absara Audio. Supro had previously collaborated with D'Angelico as a guitar/amp pairing in marketing efforts, while Supro's recently-released Blues King 10 amp features a Pigtronix Fat Drive mode.
Their geographic proximity to the New York City-based D'Angelico also played a key role in the acquisition, according to the storied guitar manufacturer.
"All three companies having a home base in New York just amplifies the harmony these brands already share," said D'Angelico COO Jimmy Lovinggood.
The three companies are already working on company restructuring, and a revised product plan for 2021.
"The acquisition of Supro and Pigtronix by D'Angelico creates a trifecta," said Dave Koltai, former co-owner and new CTO of Supro and Pigtronix. "It's a perfect fit, and I am thrilled to be able to continue making new gear for musicians around the world."
For more info on the acquisition, go to dangelicoguitars.com.
Get the latest news, reviews and product advice straight to your inbox.
Thank you for signing up to The Pick. You will receive a verification email shortly.
There was a problem. Please refresh the page and try again.