Balaguer Debuts New Vega, Anomaly Guitars
These headless models are - but for their headstocks and body shapes - completely customizable.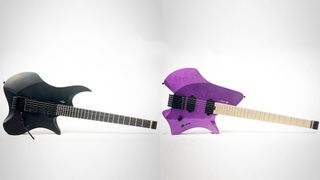 (Image credit: Balaguer)
Balaguer has debuted its striking new Vega and Anomaly headless guitars.
Part of Balaguer's "Build Your Own" series, these guitars - but for their headstocks and body shapes - are completely customizable.
Buyers can choose everything from the number of strings, to the neck profile, solid or chambered body designs, tone woods, fingerboard woods and a set or neck-thru construction.
That's not all though - pickups, fixed or tremolo bridges, color and finishes and more are also completely customizable.
Balaguer's Vega and Anomaly headless guitars are both available now, and start at $1,619.
For more info on the guitars, stop by balaguerguitars.com.
Get the latest news, reviews and product advice straight to your inbox.
Thank you for signing up to TO_UPDATE_FROM_FLEXI_UI. You will receive a verification email shortly.
There was a problem. Please refresh the page and try again.