"When Using an Open Tuning, Music Theory and Thinking in Terms of Scales and Chords Goes out the Window": Acoustic Master Peppino D'Agostino Shares Insights Into Making Musical Magic
The "Transcendent Acoustic Superhero" explains how to free your mind and open the door to new creative possibilities using alternate tunings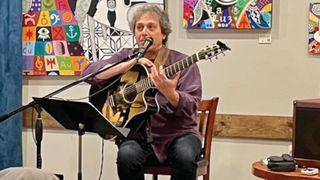 (Image credit: Jimmy Leslie)
Guitar Player counted Peppino D'Agostino among its 50 Transcendent Acoustic Guitarists: Superheroes of Wood, Steel and Nylon in the August 2017 cover feature for myriad reasons, including his ability to make musical magic in alternate tunings.
D'Agostino expressed some of his tuning methods among the many concepts included in Peppino D'Agostino's New Acoustic Guitar, a book originally published by Warner Brothers and currently distributed by Alfred Publishing in its Acoustic Masters Series.
Now that material and more is available in a fabulous new digital format with a state-of-the-art educational presentation via Guitar by Masters on its website, guitarbymasters.com.
D'Agostino hosted a workshop on how he draws inspiration from open tunings at Freight & Salvage in Berkeley, California, where he graciously invited Guitar Player to attend and take notes. Here are some introductory ideas in his own words.
How My World Opened Up
"I got the bug for open tunings in the mid '70s, inspired by Leo Kottke on an album he did with Peter Lang and John Fahey [Leo Kottke/Peter Lang/John Fahey is a split album released in 1974 on Fahey's Takoma label].
"I found further inspiration listening to the great British guitarist Dave Evans on Kicking Mule Records, and John Renbourn is another folk player from the U.K. I came to appreciate. And of course there is French guitarist Pierre Bensusan, who is the master of DADGAD tuning. Then I discovered Peter Finger from Germany, who is one of the greatest guitarists in the world. Joni Mitchell is a genius and one of the best at creating alternate tunings to help with her compositions."
Follow Your Fingers, Use Your Ears
"When using an open tuning, music theory and thinking in terms of scales and chords goes out the window, because everything is rearranged. Just that alone is enough to free your mind and open the door to new possibilities.
"People ask me all the time about how I can compose music in unusual tunings, and the answer is that it's more of an audio experience than a theoretical one. I follow where my fingers and my ears lead me.
"If it stays in my head, the next day I will record the embryonic idea to my phone. Then I consider writing it down. It would be too complex to write the idea down in standard notation, so I use tablature."
Open is Old
"This is not a new phenomenon. Classical players have been using open tunings for very many years [since the 17th century], and they have an interesting system. When transcribing that tuning on paper, they don't use tablature. They use a system describing two things: the fingering and the sound that comes out of the guitar for each note, so there are two transcriptions for the song.
"It's an interesting way of transcribing music using just standard notation. I recommend checking out an incredible composition by Carlo Domeniconi called 'Koyunbaba,' that is in a very strange tuning."
Free Your Mind
"Open tunings is a whole world that I believe players should explore. Some people are scared because it's like, 'Where is the C?' Well, I don't think you really need to know where the C is located – perhaps just experiment."
More Online
Visit guitarbymasters.com/peppino to view an extract from D'Agostino's book. He is also offering a workshop in Sicily this September with Adam Rafferty on how to arrange and compose with open tunings, among many other topics.
Go to musicworldretreats.com for more information.
All the latest guitar news, interviews, lessons, reviews, deals and more, direct to your inbox!
Jimmy Leslie has been Frets editor since 2016. See many Guitar Player- and Frets-related videos on his YouTube channel, and learn about his acoustic/electric rock group at spirithustler.com.