"I Wanted To Do Something a Little Different from the Same Old Slide Guitar Sound": Gary Rossington Reveals the Unlikely Tricks Behind "Free Bird"
Lynyrd Skynyrd's slide man explains his unorthodox approach behind the Southern rock epic.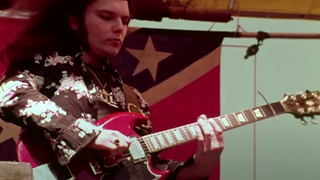 (Image credit: Geffen/YouTube)
Since its appearance on Lynyrd Skynyrd's 1973 debut album, (Pronounced 'Lĕh-'nérd 'Skin-'nérd), "Free Bird" has become a rock classic. The emotional eulogy to Duane Allman has charted millions of radio plays and is perhaps the all-time song request screamed at bar bands by rowdy, drunken crowds.
"Freeeeeeee Bird!"
Players wishing to emulate Rossington's chillingly beautiful slide performance on "Free Bird" will need more than good ears and decent chops.
A couple of subtle, but essential "tricks" are part of the recipe for a truly convincing tone. Here, Rossington reveals the history and the mystery behind one of rock's most enduring solos…
"Around 1970, when we wrote the song, I had just started playing slide," explains Rossington. "Allen [Collins, guitarist] had these chords, but Ronnie couldn't figure out any melody or lyrics to go with them.
"We kept playing the chords over and over, until Ronnie figured out some lyrics, and I came up with the slide part. But when I played, the bottle kept clinking against the frets because the strings were too low.
"I took a screwdriver, of all things, and stuck it under the strings up at the nut, so it would raise the strings up like a steel guitar. Then, I tuned the B string down to G – so the G and the B strings were both tuned to G. With the two Gs, it creates a drawling, doubled sound."
In more recent years, Rossington was known to use two Dean Markley .017-gauge G strings for the third and second strings to make the sound more consistent. And, rather than using a screwdriver, he used a little piece of wire about five inches long.
"That's the whole trick. I don't really need to use that little wire anymore, but I just do it out of sentimental reasons," he explains. "I've never played that song live without it – it just reminds me of the way I did it originally. It's like Jimi Hendrix on 'All Along the Watchtower.' He played the slide solo with a Zippo lighter. He couldn't get it to sound right with a steel slide or a bottle, so he used a Zippo. Each guy has his own little tricks.
For a slide, Rossington used a glass Coricidin bottle, just like Duane Allman.
"He told me that a bottle sounds different than a steel slide," recalls the guitarist, "and I think it does, so I copied him. Duane was one of my heroes and, in my opinion, he was the best slide player who ever lived. He had such a great touch. He was always on pitch – never sharp or flat – and that's hard to do.
"I use the slide on my middle finger. I used to wear it on my pinky so I could use the other fingers to fret with, but I just never had the 'touch,' as I call it. When it was on my pinky I would play out of tune because I couldn't see the frets as well as when the slide was on my middle finger.
"When I play the slide part, I start on the third string, slide up to the 12th fret, and take it from there. I hit the third and second strings together and play them like they're one string – it's the same idea as a 12-string guitar. For the jam at the end, I pull out the wire and play the rhythm part. I just have to make sure that I don't hit the B string when I'm playing the chords.
"I don't know what inspired me to tune my guitar to E-A-D-G-G-E, or to use the screwdriver to raise the strings. I just remember that I wanted to do something a little different from the same old slide guitar sound, so I came up with this unique kind of invention. I thought it was cool."
Browse Lynyrd Skynyrd's catalog here.
All the latest guitar news, interviews, lessons, reviews, deals and more, direct to your inbox!