How a Trio of Hardcore Kiss Fans Became the Guitar Frontline of Both Gene Simmons' and Ace Frehley's Touring Bands
Ryan Spencer Cook, Jeremy Asbrock and Philip Shouse – aka the Talismen – gave Gene and Ace their grooves back.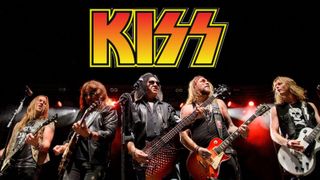 (Image credit: Hannah Foslien/Getty Images for The Children Matter)
Nashville may be known for country music, but when the band Blonder Than Hell, fronted by the golden-haired guitar duo Philip Shouse and Jeremy Asbrock, began their fully costumed annual holiday KISSmas tribute shows in 2010, it quickly became a Music City tradition. Shouse, who plays guitar for Wolf Hoffman's Accept, and Asbrock – formerly of power-pop cult faves the Shazam! and an alum of John Corabi's band – were lifetime Kiss fans who knew even their more obscure songs inside and out.
So was their pal, former Hair of the Dog frontman Ryan Spencer Cook, whose Big Rock Show homage to '70s and '80s arena rock was a mainstay on the bill of the first several Kiss Kruises.
Still, none of the talented trio imagined that within a few years they'd become the guitar frontline of both Gene Simmons' and Ace Frehley's touring bands, in many cases playing alongside their childhood heroes in the very venues where they'd first seen Kiss as kids.
"Yeah, it's pretty nuts!" says Cook, whom Simmons invited to lunch aboard the Kiss Kruise years ago to ask for help forming a band for what was meant to be a handful of corporate gigs. "I said to Gene, 'I know exactly who I'm going to call – you'll love these guys,'" Cook recalls. "And he did. And it all went so well that two or three gigs became two or three years – the first Gene Simmons solo tours ever."
At first, Cook recalls, Simmons was planning to leave his Gibson Signature bass at home and just sing. "I told him, respectfully, as a Kiss fan, if I came out to see you and you weren't playing bass, I'd be pretty bummed." Simmons, Asbrock says, "is absolutely one of the most underrated bass players in rock.
Shouse, who switches to bass in Ace's band, agrees. "You'd think he'd hammer the bass really hard, but actually Gene's touch is very economical and light," he says. "He grew up on McCartney's bass lines and '60s R&B music, so Gene is a great walking-bass player."
Cook, Asbrock and Shouse split the electric guitar duties three ways in Simmons' band, allowing them to do things Kiss can't, like have Shouse and Asbrock play main line and top harmony figures in "Detroit Rock City" while Cook holds down those syncopated backing riffs. And they encouraged Simmons to play more inside cuts like "Charisma" and "Got Love for Sale."
When Ace Frehley joined Simmons for a show in St. Paul, Minnesota on that first tour in 2017, he was so impressed by the new blood – who collectively call themselves the Talismen – that he let his own band go and hired them on the spot.
Equipped with Vintage U.S. Pro Shop V100BLK and V120SM guitars and a VJ74MRGHB P-style bass for Shouse (all with Elixir strings), a Marshall cab backline, and a clutch of Kemper Profilers that lean on Michael Britt's excellent vintage Marshall presets, the equally sharp Ace Frehley Band took to the road, performing Frehley's 1978 self-titled solo record in its entirety at the Kiss Convention in 2018.
The Ace band recently completed a few months of arena touring alongside Alice Cooper. But even with all that firepower on the bill with him, Ace still proudly takes the solos himself – solos Shouse describes as "songs within songs. Ace's solos in those classic Kiss songs are just as important as the lead vocal, and if you cover a Kiss song, you'd better not just 'jam' the solo, dude – you'd better learn it, and nail it. It's that important."
Beyond the precise arc and harmonies, Cook says, it's the spirit behind them that makes it Kiss. "Can you deny how much those opening chords to 'Love Gun' hit you in the chest? Kiss understood that what people want from rock guitar is the bare essentials – not too much, but not too little. Kiss give you what you can digest, with a ton of attitude, and it hits you in that feel-good spot in the heart."
All the latest guitar news, interviews, lessons, reviews, deals and more, direct to your inbox!