Five of Mick Ronson's Greatest Guitar Moments
GP looks back on some of the glam-rock guitar god's most enduring six-string achievements.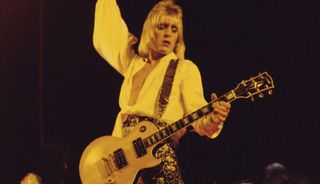 (Image credit: Michael Putland/Getty Images)
Like some character out of an Oscar Wilde fantasy, Mick Ronson was damned to be beautiful, and the fact that he gained fame as David Bowie's foil during the loud glittery mess that was '70s glam rock in no way diminishes his awesome prowess as a guitarist.
Just listen to the greatest six-string moments in his solo work, with David Bowie and elsewhere and you'll experience his raw power, beatific melodicism and thoroughly modern application of noise.
Sadly, Ronson died too young, succumbing to inoperable liver cancer in 1993, while working on his final solo album, Heaven and Hull (released posthumously in 1994).
Here are five of this perennially under-appreciated glam-rock pioneer's greatest guitar moments.
David Bowie - "Moonage Daydream"
I was around 17 years old when I was first exposed to David Bowie and the Spiders from Mars on Don Kirshner's Rock Concert late one Saturday night.
I had, of course, known that I wanted to be a guitar player since seeing the Beatles in 1964 on The Ed Sullivan Show, and, later, the early Who on the Today Show. Growing up near San Francisco's Haight-Ashbury during the Summer of Love was an inspiration, as well. But this barrage of noise, riffs, licks, lights, costumes and rather strange and unsavory staging showed me how powerful and dangerous and euphoric rock music could be, and I was a true goner thereafter.
I ditched the acoustic guitar, the frustrating "Michael Row Your Boat Ashore" lessons with the 90-year-old Swedish guitar teacher employed by my mother, and went searching for a Les Paul and the biggest amp I could find.
I ended up with a horrifically bad Japanese copy of a Les Paul and a towering solid-state amp that sounded like crap, but I had cracked the code. Thanks for the push, Mick...
"Slaughter on 10th Avenue"
I hadn't taken much of an interest in instrumental guitar in the '70s. I liked Duane Eddy, the Ventures and Dick Dale - and I had a major love thing for Link Wray's "Rumble" - but I was still focused on singers and pop songs.
I bought the album Slaughter on 10th Avenue solely because Mick was in the Spiders From Mars and I adored David Bowie. I wasn't ready for the title song's almost cinematic evocation of moods. This performance was the one that taught me a guitar could be as expressive as a vocal, and also that solos and guitar parts could be "arranged" as beautifully as orchestras.
"Angel No. 9"
Mick's voice kind of let him down on his solo projects. It was weird, because all the passion and energy he pumped into his guitar playing kind of evaporated when he opened his mouth.
No matter. The intro lines and solo that starts around 3:20 are, to me, some of the most brilliant, soaring, emotional and edgy examples of "arranged" guitar melodies I've ever heard. I learned a lot from these two parts, and they still make me shiver and miss Mick when I hear them today.
The Rats - "Telephone Blues"
This track is from 1969, with The Rats from Mick's hometown of Hull. It's a pretty typical rude and rough '60s Brit blues romp. On the surface, nothing much special here, but I love that I can hear Mick's vibrato and bends coming alive so early in his career, as well as experience his fearlessness about pushing the excitement of the music at all costs - even if it meant sounding a bit uncomfortably out-of-the-box.
David Bowie - "Heroes" (Live in 1992)
This performance from the 1992 Freddie Mercury Tribute Concert with Queen was more about seeing Mick onstage with David Bowie again. It was also about strength and guts and an enduring and transcendent love of music and the guitar, because Mick was already fighting the cancer that would kill him in 1993.
He hits a few clams here and there, but it was great to hear him add some gristle to the Bowie hit. This also inspired me to dig out the EBow that Greg Heet sold me from his NAMM booth way back when. I've been a devotee of the EBow ever since - a tool that has gotten me many session gigs and provided me with tons of enjoyment. Gotta thank ya for that one, too, Mick.
All the latest guitar news, interviews, lessons, reviews, deals and more, direct to your inbox!