Eric Johnson Digs Deep Into His Vault and Comes Up with a Winning Pair of New Albums
Set for release this Summer, EJ fans can look forward to 'The Book of Making' and 'Yesterday Meets Today' with more to follow.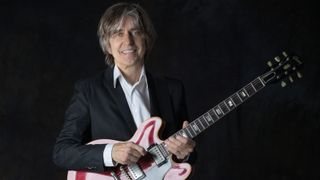 (Image credit: Max Crace)
It's said that adversity breeds opportunity, and for Eric Johnson, the pandemic created just such an opportunity in 2020 to make a record – two in fact: The Book of Making and Yesterday Meets Today (Sire).
So how did he manage to pull off recording a trove of songs – 25 in all, including seven tracks that will appear on a third album called Take Outs – at a time when simply being a room together with actual musicians wasn't possible?
"When my tour got cut two weeks short in March 2020, I came home, and everybody was kind of holed up," Johnson says. "So I went to the studio and started going through my tape vault and finding bits and pieces that were anywhere from two-inch analog tape to digital files to even cassettes and reel-to-reel tapes, stuff that went back almost 25 years.
"They were all little pieces that never were finished. I should say a couple of them were finished, but most needed a significant amount of overdubs."
In keeping with how music gets released these days, Johnson's record company devised a time-release scheme to build interest by giving EJ fans a taste of things to come on the forthcoming two albums, slated for release in July 29.
The first round of the six songs scheduled for early release include the instrumental "Soundtrack Life" (the first track on The Book of Making) and the pop-flavored title track "Yesterday Meets Today," which aired on April 1.
In the same sequence of delivering one song from each record, they'll be followed on May 6 by EJ's soulful rendition of "Sitting on Top of the World" and "Love Will Never Say Goodbye."
And on June 10, "Move on Over" and "To Be Alive" – a song Johnson co-wrote with singer/guitarist Arielle – will be the last to appear before the albums debut.
GP spoke with Eric Johnson about the process for making records from material that he'd stashed away, likely without thinking a time would come when he'd need to revisit all these demos and outtakes.
What were the challenges of working on music that you'd recorded so long ago?
Some of the stuff that came off of cassettes sounded pretty funky, so [engineer/ producer] Kelly Donnelly EQ'd them to sound as good as possible. But I also found sometimes that doing high-fidelity recordings against low-fidelity recordings added a certain depth of field to the sound.
So I tried to use that to my advantage. Through panning and placement, and how I did the overdubs, I could create a kind of depth of field from low-tech meeting high-tech.
How did "Soundtrack Life" originate, and how did you develop those complex chord sequences that the solos weave through?
I tracked that in 2017 with Chris Maresh on bass and Wayne Salzmann on drums. It was one of those songs that came pretty quickly to me.
I was playing guitar in the style of hitting bass notes while playing rhythm parts on top; I think it was a continuation of some of the picking patterns I used on a song called "Brilliant Room" [from 2009's Up Close].
I wanted to do that same kind of bass-rhythm thing. When I was overdubbing last year, the main melody part came pretty fast, but for the inside parts I had to work out some of those progressions where it changes chords quickly.
I thought it would be cool if I played lead through those changes, but working it out was a bit of a challenge for me.
Tell us about creating "Yesterday Meets Today." The funky groove and your vocals take it in a pop/R&B direction, but then there's the awesome middle section that sounds so orchestrated.
Yeah, it's a different thing. That song is actually mostly new. It was a basic idea I had developed on electric piano. I cut it with Tom Brechtlein [Al DiMeola, Robben Ford] on drums, and I just kind of finished it out.
The basic rhythm track of the piano was something I'd had for maybe a year or so, and I've never gotten around to recording it. I just wanted to add something to the record that had a little different vibe.
For the overdubs, did you purposely use certain amps to get sounds that would complement the old tracks?
Not really, because I've used the same thing all these years. I've used the same Twin Reverbs or Deluxe Reverbs for clean, and it's always been old 50- or 100-watt Marshalls for lead tones. But for these recording I did use a Two-Rock Classic Reverb a lot.
It's like an overgrown Twin Reverb that has a little bigger sound, which is what I'm looking for in a dirty-rhythm tone. I set it where it's just a little bit distorted – like if you listen to Hendrix playing "Like a Rolling Stone" on Monterey Pop when he wasn't using the fuzz. That kind of tone, just a little bit distorted.
Did you use your replica Fender Virginia Strat for the overdubs?
Yeah, that's what I used mostly, and it's pretty much box stock. I think I might have used a '57 Strat a little bit too.
Have you had to push some of your perfectionist tendencies aside in order to bring songs to completion that might have remained unheard under normal circumstances?
You can do something over and over again until you get it perfectly good without it being as good as it originally was. I've suffered from that over the years. I think it comes from insecurity – like maybe you're not quite good enough, so you have to patch and tape it all together to where it is good enough.
But really, you have to come from a different place musically to where you just play and you're not judging yourself all the time. I think that was the beginning of me embracing that concept. I realized that to grow musically, you have to change your approach, and I needed to change my approach a little bit.
Pre-order Eric Johnson's new albums here.
All the latest guitar news, interviews, lessons, reviews, deals and more, direct to your inbox!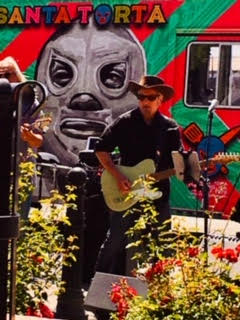 Art Thompson is Senior Editor of Guitar Player magazine. He has authored stories with numerous guitar greats including B.B. King, Prince and Scotty Moore and interviewed gear innovators such as Paul Reed Smith, Randall Smith and Gary Kramer. He also wrote the first book on vintage effects pedals, Stompbox. Art's busy performance schedule with three stylistically diverse groups provides ample opportunity to test-drive new guitars, amps and effects, many of which are featured in the pages of GP.